---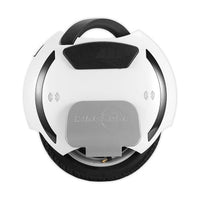 Economical model for newbies, king song electric unicycle KS-14M
KingSong KS-14M is 14-inch electric unicycle manufactured by company KingSong. KS-14M is equipped with 174 Wh Li-ion battery and 500 W rated electric motor. This allows to reach maximum speed of 20 km/h and maximum range of 15 - 18 km (based on measurements on a flat road, constant speed, perfect weather conditions, with 70 kg load). Among others, this KingSong model features Fixed + trolley handle and Regenerative braking.

If you are considering buying an electric unicycle this model is good for learning without compromising safety. Unlike other unknown brands Kingsong is a well built and a safe and reliable product that's earned good reviews worldwide. 

Economical model for newbies, king song electric unicycle KS-14M
Entry Level Model : KS-14M
1.Model No: KS-14M (optional color: white, black)
2.Trolley bar;
3.LED light decorative circle;
4.Brake system by lights front and back.
5.174wh imported lithium battery
6.500w motor
7.Phone app 
8.LED battery state display
Imagine if you could be satisfied and content with your purchase. That can very much be your reality with the Economical model for newbies, king song electric unicycle KS-14M.

Inventory Last Updated: Dec 04, 2023