---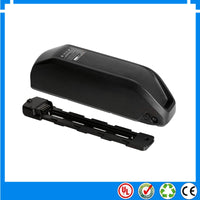 Sale
US EU RU No taxes lithium battery 36v 10ah 15ah 17.4ah e-bike battery for 36V 250W 500W Bafang BBS01 BBS02 motor +charger
Brand Name: Suncarry
Capacity: 10 - 20Ah
Voltage: 36v
Type: Lithium Battery
Capacity: 10ah 13ah 15ah 17.4ah 19.4ah
size: 370*110*90mm
charger: 42V 2A
color: black
Fit for motor: 36v 250w 500w 750w
cells: LG /Samsung
BMS: 20A 25A
US EU RU No taxes lithium battery 36v 10ah 15ah 17.4ah e-bike battery for 36V 250W 
500W Bafang BBS01 BBS02 motor +charger
Weight                      ≤ 4kg
Charge Temperature          0~45°C
Discharge Temperature     -20~65°C
Retention of charge (store in one month) ≥95%Technical Data
Rated Voltage                     36V
Rated Capacity C1 ≥          10Ah 13AH 15AH 17.4AH 19.2AH
Battery Resistance ≤          100mΩ
Way of Charge     CC/CV(Constant Current;Constant Voltage)
Standard Charge Current 2A
Max Charge Current        5A
Max Charge Voltage        42V
Cell OverCharge Protection Voltage 4.2V/Cell
Continouns Discharge Current      20A can be customized
Peak Discharge Current                 
55A can be customized
Discharge Cut-off Voltage             30V
Cell Overdischarge Protection Voltage 3.0V/cell
Cycle Life ≥ 800 Cycles
Q: Do your e-bike battery come with charger
A: All of our e-bike batteries come with charger.We have normal charger and fast charger.If you need fast charger 
Q: Do your electric bike batteries come with BMS
A: Yes, Our batteries all with SEIKO IC BMS, with stable performance.Which can protect the battery avoid short circuit,Overcharged,Over
Do not immerse the battery in water or seawater, keep the battery stands by in a cool dry surrounding.
Does not use or leave the battery near a heat source as fire or heater.
Use the battery charger specifically for that purpose when recharging.
Do not reverse the position and negative terminals.
Do not connect the battery electrodes to an electrical outlet.
Do not discard the battery in fire or a heater.
Do not short-circuit the battery by directly connecting the positive and negative terminals with metal objects.
Do not transport or store the battery together with metal objects such as hairpins, necklaces, etc.
Do not strike, trample or throw the battery.
Do not directly solder the battery and pierce the battery with a nail or other sharp objects.
We provide 1 year warranty for all electric bike batteries.
Any battery with quality problem in one month we can return the money after you provid ethe proof
After one month we can send BMS or cells to you for repair,or you can send it back to repair as well
E smart way is first Chinese online shop dedicate to short distance transportation whether it is for fun or commute, we offer Free Shipping for US EU RU No taxes lithium battery 36v 10ah 15ah 17.4ah e-bike battery for 36V 250W 500W Bafang BBS01 BBS02 motor +charger