---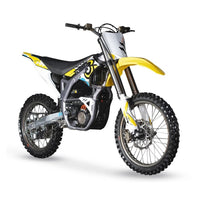 Sale
Super 96v48ah storm electric two-wheeled motorcycle 22.5kw power up to 110km/h electric cross-country bike
taobao
This product is a custom product,
once the payment confirmation order will be irrevocable.
Please be careful!
After the payment is successful, we will send it to you within 25 days.
NOTE:
Free shipping to EU /RU /TH
Tips before shipping :
Shipping is free.
We will use the railway to ship these goods to avoid the customs trouble, there will be no extra customs fee.
But the shipping time will be long about 35-50 days, and there will be no update tracking information when the goods on the train.
Please don't worry, you can contact us if you have any questions, we will reply you within 24 hours.
1.8S
0-50km/h
3.6S
0-80km/h
520N.M
torque at wheel
22.5KW
massive power
≥100KM
effective range ( on road condition )
ASR + ABS
safety first ( ABS optional )
EXCELLENT POWER SYSTEM & UNIQUE FRAME DESIGN
The high-strength frame structure and motorcycle ergonomic design exclusively for Storm Bee platform, which shows advantage of both stiffness and flexibility also greatly increase the riding experience. The compact three layers arrangement of battery pack, MCU and motor minimizes the unsprung weight and balancing the Storm Bee, the 45° steering angle enhances the maneuverability.The unique 1430mm wheelbase allows the Storm Bee not only to have great maneuverability and off road ability but also obtaining excellent high-speed stability.
90V 48AH
HIGH POWER TERNARY COMPOUND
LITHIUM-ION BATTERY
SMART MCU
POWERFUL STORM
BEE EASY TO RIDE
MORE
COMBINE THE INTELLIGENT PACKING SOLUTION
WITH THE SAFE AND EFFICIENT
BATTERY MANAGEMENT SYSTEM
30KG
SONY VTC6 LITHIUM-ION BATTERY
4 H
0-100% CHARGE
THE BATTERY
100KM
PROVIDE MORE THAN
100KM RIDING RANGE
SMART MCU
STORM BEE IS EQUIPPED WITH A 150V FOC
SINE WAVE MCU INDEPENDENTLY
DEVELOPED BY SUR-RON TECH WITH
PROTECTION LEVEL EQUIVALENT TO IP67
WITH MANY BUILT-IN TEMPERATURE
SENSORS THAT CAN AUTOMATICALLY
ADJUST THE POWER OUTPUT ACCORDING
TO THE TEMPERATURE OF THE POWER
SYSTEM TO MAXIMIZE DRIVING SAFETY
AND EXTEND BATTERY LIFECYCLE
THE ALUMINUM ALLOY SHELL DESIGN
PREVENTS EXTERNAL ELECTROMAGNETIC
AND RADIATION INTERFERENCE
RIDING TRACTION CONTROL SYSTEM
USE DIFFERENT RIDING MODE TO ADAPT DIFFERENT ROAD CONDITIONS. ECO MODE CAN MAXIMIZE THE RANGE FOR YOU; RAIN MODE WILL
GENTLY GENERATE POWER TO PROTECT YOU FROM POTENTIAL RIDING HAZARDS; SPORTS MODE CAN OUTPUT FULL POWER AND EXCITES ALL
YOUR NERVE FIBRES, AND DON'T FORGET THE FURIOUS "TURBO" MODE. NO MATTER IT IS DIRT TRACK, OFF-ROAD TRAIL OR RACING
CIRCUIT, YOU CAN ALL RELY ON YOUR STORM BEE.
E-BRAKE ENERGY
REGENERATIVE SYSTEM
MULTI-LEVEL ADJUSTABLE ENERGY REGENERATIVE SYSTEM, GIVES YOU RANGE, ENJOY THE RIDING WITHOUT THE ANXIETY
REVERSE A WAY OUT
UNLIKE THE MOST OF THE GAS MOTORCYCLES, STORM BEE HAS AN EXTREMELY USEFUL REVERSE GEAR FUNCTION, YOU CAN ENTER
THE REVERSE GEAR MODE EASILY WHEN THE MOTORCYCLE IS STATIONARY. NOT ONLY IT CAN ASSIST YOU WHEN YOU ARE PARKING,
EVEN YOU WERE RIDING OFF ROAD AND TRAPPED IN MUD, IT CAN ALWAYS GIVE YOU AN EASY WAY OUT.
SUR-RON HAS ONCE AGAIN SET THE NEW BENCHMARK FOR HIGH-PERFORMANCE ELECTRIC OFF-ROAD MOTORCYCLE.
BENEFIT FROM THE SUR-RON SELF-DEVELOPED POWERTRAIN AND GREAT MOTORCYCLE DESIGN CONCEPT, THE STORM BEE HAS AN EXTREMELY HIGH-STANDARD PERFORMANCE.
0-80KM/H ACCELERATION ONLY NEEDS 3.6 SECONDS, NO LONGER NEED FOR THE FREQUENT GEAR SHIFTING AND CLUTCH CONTROL. FULL THROTTLE, FELL THE ACCELERATION.
The Super 96v48ah storm electric two-wheeled motorcycle 22.5kw power up to 110km/h electric cross-country bike is a sensational customer favorite, and we hope you like it just as much.

Inventory Last Updated: Sep 27, 2023