---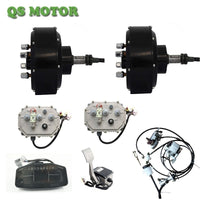 Sale
QSMOTOR205 Daul 3000W Hub Motor Light Electric Car Conversion Kits
Light Electric Car Hub Motor Conversion Kits, Daul 3000w Single Shaft Car Hub Motor and 2 Kelly Controller
Features:
1. The kits suits to the light three-wheels or four wheels electric vehicle, the mass of the vehicle better under 800kgs
2. It is special for small electric car production, electric car prototype assembly or old Golf-cart and small gasline car conversion into electric
3. The max. speed can be designed to 90kph at 72V battery drive, and also available for low speed e-tractor
The parts list as follows,
2 pcs x QS205 3000W 50H V3 E-Car Hub Motor
2 pcs x Kelly Sine wave Controller KLS7230N
1 pcs x Throttle Pedal
1 pc  x  Speedometer
1 set x 1 tow 2 Hydraulic Disc brake system
1. QS Motor 205 Model 3000W 72V 50H Single Shaft Car Hub Motor V3 Type

205 Single Shaft Car Hub Motor specially designed for Electric tricycle or 4-wheel electric vehicles, the rated power can be made 1500W,2000W OR 3000W for options.
Motor Specification:
1. Motor Type: BLDC Hub Motor with Permanent Magnet 
2. Motor design: Single axle out without rim
3. PCD for rim installation: 4 x100mm
4. CB:60MM
5. Magnet Height: 50MM
6. No. of Pole Pairs: 16 pairs
7. Rated Power: 3000W V3
8. Peak Power: 5000W
9. Rated Voltage: 72V( 48-96V Can be optional)
10. Speed: 80km/h (30-100km/h can be customized)
11. Max No-load RPM: 1100RPM
12. Max Torque: 180N.M
13. Max Efficiency: 90%
14. Continious current:45A
15. Max current:80A (Peak 100A in short time)
16. Brake type: Disc brake 
17. Winding Core material: Aluminium
18. Cross Section of Phase wire: 10 mm2
19. Hall sensor phasing angle: 120 degree
20. Temperature Sensor: Optional
21. Max. Working Temperature: 70 degree, Peak 120 degree
22. Waterproof Grade: IP54
23. Color: Black or Silver
24. N.W./ G..W. : 15kgs / 16kgs
25. Package Size: 34*34*33CM
2. Kelly Sine Wave Controller KLS7230N with Brake Regenerative Function
100A continuous current, 300A phase current.

The size is 194mm*126mm*86.8mm 

Net weight: 1.82kg

It's no problem to be used in max.speed 80km/h car

Package: Carton

Including: 1 controller+1 Z-TEK USB TO RS232 cable + Some plugs 

Included the fuse on the case

Protection Grade: IP67
​
3. 0-5V Electric Car Throttle Pedal
TECHNICAL PARAMETERS
Input voltage 5V,10V,12V,24V,36V-84V,96V, Any voltage
Output 0.8-4.2v;0-5V;5-0V;4.2V-0.8V;0-10V;10-0V
Output rated load current 10mA
Pedal rotation angle 30 degrees
Micro Switch resistive load current 2A
Micro Switch Inductive load current 1A
Accelerate the operating voltage of the switch 0-96V
Pedal position Vertical or suspension
Installation form Vertical or suspension
Testing organization certification CE
 4. 48-100V Programmable Electric Car Speedometer
Rated Voltage:48V-144V ProgrammableShow Time, driving distance, speed, voltage, electric quantityTest Speed Type: Hall Sensor
5. Disc Break Kits
Application Case:
The QSMOTOR205 Daul 3000W Hub Motor Light Electric Car Conversion Kits is far and away, one of our most popular items. People can't seem to get enough of it.

Inventory Last Updated: Dec 04, 2023