---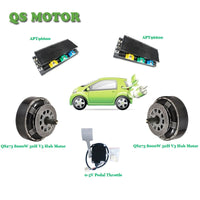 Sale
QSMOTOR 2WD 8000W 96V Small Electric Car Conversion kits
QS Motor Electric car Conversion Kits 96V Version with APT Controller 96600
The kits as follows,
2units x QS 8000W 50H V3 Electric Car Hub Motor
2units x APT Controller 96600
1unit x Pedal Throttle
1unit x Free Speed Meter
Note:
1. The kits not included the battery and disc brake set
2. The motor kits suits the vehicle total load under 1000kgs
3. Please contact the seller if you have future questions
Item Description:
273 Car Hub Motor(50H) 8000W V2 Type
273 Single Shaft Car Hub Motor specially designed for Electric Car or 4-wheel electric vehicles, the rated power can be made 5000W,6000W OR 8000W for options.
Motor Specification:
1.    Motor Type: BLDC Hub Motor with Permanent Magnet
2.    Motor design: Single axle out without rim
3.    PCD for rim installation: 4 x100mm, 5x114.3mm
4.    CB:60MM/70MM
5.    Magnet Height:45MM
6.    Pole Pairs: 28 pairs
7.    Rated Power: 8000W V2
8.    Peak Power: 16000W
9.    Rated Voltage: 72V( 60V-144V Can be optional)
10.  Speed: 100km/h (40-100km/h can be customized)
11.  Max No-load RPM: 1000RPM
12.  Max Torque: 250N.M
13.  Max Efficiency: 88%
14.  Continious current:88A
15.  Max current:120A (Peak 170A in short time)
16.  Brake type: Disc brake
17.  Winding Core material: Aluminium
18.  Cross Section of Phase wire: 16 mm2
19.  Hall sensor phasing angle: 120 degree
20.  Temperature Sensor: Optional
21.  Max. Working Temperature: 70 degree, Peak 120 degree
22.  Waterproof Grade: IP54
23.  Color: Black
24.  N.W./ G..W. : 25kgs /26kgs
25.  Package Size: 44*43*34CM
Controller
The APT Controller 96600 is specially for 8000W electric motorcycle or electric vehicle, the voltage range canbe 42V-120V.
Working voltage range:42V-120V
Package Including: 1pc controller + 1pc GX16-10 to RS232 cable + 1pc Function harness
+1pc USB to RS232 Converter Cable (programming cable).
Please contact us if you need the program Software & Manual
3. 
0-5V Electric Car Throttle Pedal
Throttle Pedal Hall type : JKH model (match with our motor & controller)
Input voltage: 5V 12V 15V 24V 36V 48V 60V 72V 84V 96V 120V
Output voltage: 0-5V5-0V1-4.2V4.2-1V0-10V10-0V
Deafult: 5v input voltage (depends on controller design, for our matched controllers, you can choose 5v input voltage), 0-5v output voltage.
 4. 48-100V Programmable Electric Car Speedometer
Rated Voltage:48V-144V ProgrammableShow Time, driving distance, speed, voltage, electric quantityTest Speed Type: Hall Sensor
Case:
Imagine if you could be satisfied and content with your purchase. That can very much be your reality with the QSMOTOR 2WD 8000W 96V Small Electric Car Conversion kits.

Inventory Last Updated: Sep 29, 2023