---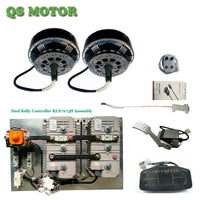 Sale
QSMOTOR 2WD 8000W 72V Small Electric Car E-ATV E-Cart Conversion kits with Regenerative braking
QS Motor Electric car Conversion Kits 72V Version
The kits as follows,
2units x QS 8000W 50H V3 Electric Car Hub Motor
2units x Kelly Controller KLS7275H
1 unit x  Daul Controller Assembly plate
1unit x Pedal Throttle
1unit x Speed Meter(X8-E)
Note:
1. The kits not included the battery and disc brake set
2. The motor kits suits the vehicle total load under 1000kgs,max.speed about 40-100kph drived by 72V battery
3. Please contact the seller if you have future questions
Key Features,
1. The application of a hub motor can greatly simplify the structure of the vehicle. Traditional clutches, gearboxes and transmission shafts will no longer exist. This also means saving more space.
2. The Daul Controller has been assembled together with the Main contactor on the Alu. plate, so it will be much easier for play and connection
3. Control box combines forward, reverse, master switch and other functions
4. Regenerative Function is available
Items details:
1.  273 Car Hub Motor(50H) 8000W V3 Type
Motor Specification:
1.    Motor Type: BLDC Hub Motor with Permanent Magnet
2.    Motor design: Single axle out without rim
3.    PCD for rim installation: 4 x100mm(As default), 5x114.3mm,5 x 112mm(Can be customs)
4.    CB:60MM or 70MM
5.    Magnet Height:50MM
6.    Pole Pairs: 16 pairs
7.    Rated Power: 8000W
8.    Peak Power: 16000W
9.    Rated Voltage: 72V as default, can be customs 96V
10.  Max Torque: 250N.M
11.  Max Efficiency: 90%
12.  Cross Section of Phase wire: 16 mm2
13.  Hall sensor phasing angle: 120 degree
14.  Temperature Sensor: Available
15.  Max. Working Temperature: 70 degree, Peak 120 degree
16.  Waterproof Grade: IP65
2. Dual Controller Kelly Controller KLS7275H Assembly
3. 
0-5V Electric Car Throttle Pedal
Throttle Pedal Hall type : JKH model (match with our motor & controller)

Input voltage: 5V 12V 15V 24V 36V 48V 60V 72V 84V 96V 120V

Output voltage: 0-5V5-0V1-4.2V4.2-1V0-10V10-0V

Deafult: 5v input voltage (depends on controller design, for our matched controllers, you can choose 5v input voltage), 0-5v output voltage.
 4. 48-100V Programmable Electric Car Speedometer
Rated Voltage:48V-144V ProgrammableShow Time, driving distance, speed, voltage, electric quantityTest Speed Type: Hall Sensor
Case:
The QSMOTOR 2WD 8000W 72V Small Electric Car E-ATV E-Cart Conversion kits with Regenerative braking is the yin, to your yang. You've found what you're looking for.

Inventory Last Updated: Oct 01, 2023