---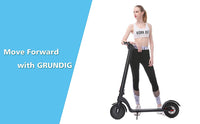 Sale
GRUNDIG Electric Scooter X7, Foldable 10 Inch Adult Scooter, Unique design With Replaceable Battery and Cruise Control, 3 Speeds, 3 brakes, Max Speed 25 km/h, Up to 25 km Endurance
FEATURES:
Powerful 350 WATT Moto : With 350w motor, GRUNDIG electric scooter max speed can up to 25km/h, and easily tackles 15°steep hills and other obstacles, 3 speed levels allow you to freely select
Detachable Battery Design: There is a 6.4Ah high capacity of the quality lithium-ion battery, max rang up to 16 miles on a full 4-6 hours charge. Its exclusive detachable structure allows you to bring the battery for charging everywhere without the need to carry the whole scooter.
Portable and Foldable Scooter: GRUNDIG e-scooter frame is made of great aviation aluminum alloy, weights only 27.5 lbs but can load up to 265 lbs, foldable design which can be quickly folded and released within 3 seconds, wherever you are, you can easily carry and store it.
Comfortable Ride Experience: The GRUNDIG scooter is equipped with pneumatic 10-inch tires, which are with the great shock absorption performance, it offer a smooth ride even over bumpy surfaces, the cruise control mode allows you to release your thumb to aviod keeping pressing the throttle button.
A triple braking system ABS disc rake, electric brake, foot rear brake ensures efficient and responsive braking, even at high speeds and effectively prevents traffic accidents. LED headlights keep you safe in the night riding, induction taillights can warn rear vehicle to.
SPECIFICATIONS:
Brand - Grundig
3 Speeds: Beginner mode, normal mode (white light) and sports mode (red light).
Waterproof as long as it is not submersed in water.
Colour - Black
2 LED lights: front and rear.
Display Type - LCD
Brake Type - Rear Braking
Material - Aluminimum Alloy
10" Air-filled Tires Folding LCD-Display Rechargable Adjustable Waterproof
Product Dimension: 108.3*42*118.6cm,
Folding size: 108.3*42*46cm,
Package dimension: 116.5*49.5*18.5cm.
---
Product Description
INSPIRED BY LIFE
We all need to make an effort to make our earth a better place. Protecting the environment is the most urgent at the moment. This is why GRUNDIG came up with this electric scooter: it goes much longer distances. It has zero emission and it is the most durable electric scooter!
We have been looking at other models of scooter electric adult and have read what customers really need. We used our years of experience in the field of electric scooter and put it in one design: The GRUNDIG electric scooter X7!
This is not just our design, this is what you have desired all your life of what an electric scooter needs to be. No matter what road conditions, or how far you want to go, this scooter for adults has it all covered.
This electric scooter is the ultimate gift for yourself or your significant other. Spend less time on commuting and more time with each other! Convenience is at your reach now. You have no excuses anymore to be stuck in traffic or to have to make a detour because roads are too narrow.
Take this beauty on a ride and see for yourself.
Extraordinary battery
This battery is a Panasonic 18650 Lithium-ion one (same as Tesla), so it is of the highest quality.
We know that the battery is one of the weak features of all e-scooters, so we have done extensive research to give you the quality you deserve.
Replaceable Battery
With this removable battery feature, you buy a second battery, which enables you to do longer rides or you can take it out when you park somewhere as part of the anti-theft system.
350 W motor

Our motor is also carefully chosen among all the known motors. We have, again, chosen the one that performs well.

Go all the way with 10 inch

6.5" is for children up to 12 years old.

8.5" is for teenagers.

10" is for tall teenagers and adults.

Give yourself the ultimate satisfaction with this 10 inch e-scooter!

Air-filled tires for shock-absorption

Air-filled tires are great for absorbing shocks while riding.

Be careful though with bumps that are too high or with deep puddles.

ABS disc brake

There are, in total, 3 brakes on the GRUNDIG e-scooter: electric brake, rear brake and disc brake.

Your safety is very important to us.
3 speeds and battery level
The display shows the battery level in 5 stages.
The speeds are:
Beginner mode: up to 10 km/h, Normal mode: up to 15 km/h, Sport mode: up to 25 km/h.
Package Includes:
1X Electric Scooter with battery
1X Charger
1X Disc Lock
1X Screw driver
Specifications:
1. 3 Speeds: beginner mode, normal mode (white light) and sports mode (red light).
2. Waterproof as long as it is not submersed in water.
3. 2 LED lights: front and rear.
4. Product Dimension: 108.3*42*118.6cm, Folding size: 108.3*42*46cm, Package dimension: 116.5*49.5*18.5cm.
Notes:
1. Wear a helmet whenever you go riding.
2. Do not put close to inflammable objects or overcharge the battery.
3. If you don't use electric scooter for a long time, please charge the battery every 3 months.
4. The electric scooter is not suitable for children under the age of 12.
The GRUNDIG Electric Scooter GD-X7, Ship Directly From Germany And Two Years After-Sale Services For European Customers is evocative, to say the least, but that's why you're drawn to it in the first place.

Inventory Last Updated: Sep 27, 2023