---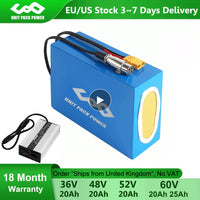 Electric Scooter Battery 36V 48V 52V 60V 25Ah 24Ah 20Ah 250W-220W Motorcycle/Trikes/Bicycle/eScooter Waterproof Lithium Battery
Why Chooice UnitPackPower Official Store?
1) Factory Direct Store: We assemble all batteries in our own factory, never use fake or cheap cell pack sell at lowest price to attract buyers. In addtion, we have to scrimp on everything, assemble them as quickly/cheaply as possible. We
don't take chances when it comes to our batteries or your safety!
2) Official High Quality Cell Sources: We only source genuine A-grade genuine cells from the official sources.
3) Every cell in the Pack is fused: (just like almost all of the batteries we supply) Cell level fusing, can prevent any of the cells or cabling from overheating and becoming dangerous.
4) Every Battery Made Cycle Test: Each pack is ran through a full charge and discharge before leaving our facility to make sure you are getting every amp hour you paid for.
Short Circuit Safety Test √ Overcharge Safety Test √ Crush Safety Test √ Needing Safety Test √ Extrusion Safety Test √
5) Best Oversea After-sale Service: We do all this and offer it at our usual low pricing, we don't charge a premium
for Safety and Reliability. We have a proven track record of offering great after-sales support and warranty repairs/replacements. We will not leave you stuck (18 Month warranty, with Support Centres in Germany&Belgium&USA&Canada&Australia).
36V 48V 52V 60V 72V PVC eScooter Battery Main Features
1) Battery shrink wrap with waterproof glue, have better waterproof effect than other normal battery.
2) Battery dimensions can be customized to meet your demand
3) BMS constant current can be customized to fit your motor
4) Charging connectors can be customized, if you have demand
5) Without battery case more lightweight, can put into your person bag or box
6) Wide range of applications, such as: ebike, escooter, electric wheelchairs, electric boats and so on
36V 48V 52V 60V PVC Escooter Battery Specification
Applications
1) Fit for motor: Gear motor, Gearless motor, Brushless DC motor, bafang motor, Tongsheng motor, Golden motor, etc.
2) Fit for bike: E-scooters, Folding bike, City bike, Mountain bike, Fat bike, Cruiser bike, Trike bike, ect.
3) Fit for car: Golf car, Small-scale electric flat car, Forklift, Cleanness car, Electric wheelchairs, Electric boats, ect.
Guarantee
1) We provide 
18 month warranty
 for all electric bike batteries.
2) Any battery with quality problem within o
n
e month we can resend you a new one after provide your proof.
3) Any battery with quality problem within one year, we provide free repaired.
4) All our electric bicycle batteries with high quality cells and BMS, and they will be 100% tested before shipping.
Top brand lithium battery manufacturer in China, rest assured to buy.
We don't supply warranty service for the following situation:
1) The battery goes over the water.
2) The battery is broken by man-made.
3) The cells are burnt out after incorrect using.
4) Return the battery without reason.
5) Open a dispute without contacting us.
Feedback
1) Our battery can fit most of motor kit, exclude(not only) these: 
B0SCH, SHIMANO, YAMAHA, Panasonic
 .
2) Please contact us If you can't confirm whether our battery can fit your motor.
3) If you have any problems please feel free to contact with us 
BEFORE
 you leave negative feedback or file a dispute.
4) Any problem is not a problem, as long as you contact us.
5) Your satisfaction and positive feedback is very important to us.
6) Please kindly leave us a positive feedback and 
5 Stars
 if you are satisfied with our items and services.
Q: What type of this electric bike battery?
A: 
It is li ion battery
,Chemical is Li(NiCoMn)O2.
Q: What is the difference between li ion battery,NI-MH battery and Lead acid battery?
A: E-bike Li-ion battery have longer cycle life,
normal cycle life is 800-1000 times
, and also with light weight,small size, No memory effect,Nontoxic, environmental friendly.
Q: What's temperature range of charge and discharge?
A: 
Charge Temperature: 0 to 45°C and Discharge Temperature: -20 to 65°C
Q: What kind of cells used on this electric bicycle battery?
A: Different capacity with different cells, we make the battery with original A grade Samsung,Panasonic,Sanyo,LG and high quality domestic cells,all can be customized as your requests.
Q: Do your e-bike battery come with charger?
A: 
All of our e-bike batteries come with charger
.We have normal charger and fast charger.If you need fast charger please contact with us.
Q: Do your electric bike batteries come with BMS?
A: 
Yes, Our batteries all with SEIKO IC BMS
, with stable performance.Which can protect the battery avoid short circuit,Overcharged,Over discharge and Over current.
Q: Can you provide OEM and ODM service?
A: Yes, We are a professional Electric Bike Battery manufacture with factory, which produce all kind of high quality E-bike lithium batteries as customers' requirements and designs, welcome to place OEM and ODM orders and visit our factory.
1) Longer battery life, the life expectancy is two times that of lead-acid batteries.
2) Rechargeable and no memory effect.
3) The weight is more lighter than other batteries.
4) Smaller dimensions and can be customized.
5) Safer and more environmentally friendly, No heavy metals and hazardous substances.
6) BMS built-in IC chip will prevent battery pack over charge, over discharge, over-current, over-heat, short circuit.
Do not immerse the battery in water or seawater, keep the battery stands by in a cool dry surrounding.
Does not use or leave the battery near a heat source as fire or heater.
Use the battery charger specifically for that purpose when recharging.
Do not reverse the position and negative terminals.
Do not connect the battery electrodes to an electrical outlet.
Do not discard the battery in fire or a heater.
Do not short-circuit the battery by directly connecting the positive and negative terminals with metal objects.
Do not transport or store the battery together with metal objects such as hairpins, necklaces, etc.
Do not strike, trample or throw the battery.
Do not directly solder the battery and pierce the battery with a nail or other sharp objects.
UnitPackPower batteries have insured to China Ping An Insurance, rest assured to buy.
The Electric Scooter Battery 36V 48V 52V 60V 25Ah 24Ah 20Ah 250W-220W Motorcycle/Trikes/Bicycle/eScooter Waterproof Lithium Battery is a sensational customer favorite, and we hope you like it just as much.

Inventory Last Updated: Oct 04, 2023