---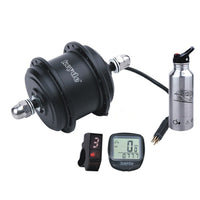 Sale
3.5Kg front conversion kit with 250w hub motor(built-in controller) and 6.8Ah battery for electric bike,electric bicycle
Design: Brushless
Motor Type: Brushless Gear Hub Motor
Wattage: 201 - 300w
Voltage: 33v
Motor type: Integrated 33V 250W front motor with controller system
Controller system: Built-inside the motor
Battery type: 33V/6.8Ah lithium battery
Charger: 33V charger
Display: LED PAS+LCD display
Wire: one for three waterproof wire
Speed sensor: Yes
Net weight: 3.5Kg
3.5Kg front conversion kit with 250w hub motor(built-in controller) and 6.8Ah battery for electric bike,electric bicycle
 S330 front conversion kit :
1).33v 250w front disc brake motor(built-in controller0
2).33v 10.2Ah battery
3).charger
4).LED pas+LCD display
5).one for three connection wire
6).speed sensor
1.Bicycle's models and wheel size:
Bicycle's models:mountain bike, city car, folding car ,and so on;
Wheel size:16 inch, 20 inch, 22 inch, 24 inch, 26 inch 700C, 29 inch,and so on.
2.Number of spoke holes:
Can be customized:20,24,28,32,36
3.Speed:
The motor's rated RPM is 160-260rpm, when you order it, please tell us the speed of the motor which you need, then we will make suitable speed for you.
4.Rim
If you don't need me to provide rim for you, you only need change your old spoke,then lace the motor into your old rim.
If you need the whole wheelwith motor, rim ,and spoke, we will lace the motor into rim for you(please contact with us, the price is only for the motor)
5.Spoke:
If you need spokes, plase tell us the length of spoke
6.Installation:
We will provide you a Installation Notes with the motor
7.Warranty:
Motor's warranty is two years, according to the size of the battery capacity, Batteri's warranty is a year and a half to 2 years, other accessories such as controllers, meters and other components are 1 year.
8.Motor free resistance:
The motor doesn't have part of clutch, but the motor has  clutch function. So turn off the power,there is no Magnetoresistance when  cycling.
Because there is noMagnetoresistance, and we set the corresponding LED 0 stalls, the design is more humane. So that riders has more fun when riding.
Instruction:
   Our conversion kit S230 for electric bicycle adopts super-mini keyde motor, big capacity water bottle shaped battery with weight of 1.2kg and intelligent LCD display, which is suitable for bicycle lovers who can mount the spokes to convert the bicycle into e-bike by themselves. They can use their original wheel rim to keep matching with the rear wheel. It's easy to convert, time and energy saving. It's the ideal choice for high-end bicycle conversion lovers.
Parameters:
Warranty period of motors:  2years
Warranty period of 10.2Ah battery:  2 years
Note: If there is any quality problem within warrant period, the item is for free replacement.(Not including the returning fee)
E smart way is first Chinese online shop dedicate to short distance transportation whether it is for fun or commute, we offer Free Shipping for 3.5Kg front conversion kit with 250w hub motor(built-in controller) and 6.8Ah battery for electric bike,electric bicycle