---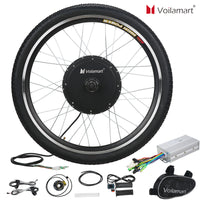 Sale
26" 36V 500W Electric Bicycle Bike Kit Rear Wheel Motor Conversion Brushless Gearless Hub Motor Kit Cycling
ThisElectric Bicycle Kitincludes everything needed(except battery) to convert your standard bike into a top-of -the-line performance electric bike, which delivers unequaled performance and reliability. You'll be out cruising along at22 mphwithout a sweat!
Key feature:
* Built to the highest international standards, CE
* 36V/500W super power brushless gearless hub motor
* Nylon tire& alloy rim& galvanized steel spoke
* Rare-earth metal magnet are used in the motor to efficiently produce large power
* Aluminum alloy powerful controller guarantee big current supply
* Twist throttle has battery level display and power-cut off button
* Brake Levers cut off the power supply to the motor safely
*Crank speed sensor for pedal assist
* Aluminum alloy powerful controller

Notes:
1.The system requires a 36 Volt electrokinetic cell battery with a nominal capacity not less than 10Ah.
2.Battery and charger are not included in package.
Caution: For your Safety, Please turn off the battery before connecting the Controller!
Specifications:
Wheel type:Rear Wheel

Motor:Brushless Gearless

Tire:Nylon

Rim:Alloy Double Wall

Power:500W / 36V

Torque:35 N.M

Spokes:Steel, 12G×2.6mm

Max Speed:22mph

Wheel Size:26"

Max Load Capacity:150kg

Net Weight:10.46kg

Wheel Axle:210 x Φ10mm
Package Include
1xBrushless Gearless Motor Rear Wheel

1xIntelligent Motor Controller

1xPedal Assist Crank Sensor

1xCable Ties & Plastic Coil

1xPair of Handle Bars (included Twist Throttle)

1xController Bag

1xPair of Brake Handles

1xUser Manual
We value 'word of mouth' so much that we've put together a generous affiliate (referral) program. Which means, every time you refer a customer to buy 26" 36V 500W Electric Bicycle Bike Kit Rear Wheel Motor Conversion Brushless Gearless Hub Motor Kit Cycling, we'll pay you a percentage of the sale as a thank you. You can sign up for our affiliate program by click left column tap Affiliates Program