---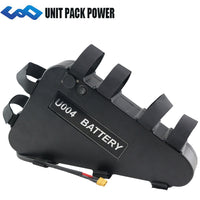 Sale
UPP Triangle Battery 36V 48V 52V 20Ah 28Ah 31.5Ah Ebike Battery with Super Capacity Long Range Work for 500W 750W 1000W Motor
Brand Name: UNITPACKPOWER
Capacity: 10 - 20Ah
Voltage: 48v
Type: Lithium Battery
Votage: 36V 48V 52V optional
Capacity: 20Ah 28Ah 31.5Ah optional
Cells: 2500mAh/3500mAh for different Capacity
BMS: 20A for 36V, 30A for 48V/52V
Charger: 42V 3A/ 54.6V 2.5A 4A/ 58.8V 2.5A 4A
Net Weight: <6.8KG
Size: 364*232*64*343*80
Cycle Life: 800-1000 times
Warranty: 12 months
Model: U004
UPP Triangle Battery 36V 48V 52V 20Ah 28Ah 31.5Ah Ebike Battery with Super Capacity Long Range Work for 500W 750W 1000W Motor
Product features and advantages: 

1. The battery pack used high quality Cells, 
long runtime, deep discharge recover, extended service life and superb performance. 
This Li-ion battery pack, It has a great cycle life: 800-1000 Cycles with DOD 80%, no acid (No spill or leak problems) 
2.  with high quality in-built BMS, 
protect the battery from short circuit,overcharged,over discharge and Over current.
3.  Waterproof and Solid plastic Case, 
can be mounted in most positions, it resists vibration, shock, and is small and         lightweight.
1.With patent private mold hard plastic triangle case, other manufacturer don't have and can't copy, the case is so stronger a lot than normal cloth triangle bag.  
2.With high power high voltage and high capacity.
Electric Bicycle Battery Specifications:
Model: U004 Triangle style 
Li-ion 
E-bike Battery
Nominal Voltage and Rated Capacity:
36V 20Ah/ 48V 20Ah/ 52V 20Ah/ 52V 28Ah/ 48V 31.5Ah optional
Cells: Brand 18650 3.7V 2500mAh Cells for 36V 20Ah/ 48V 20Ah/ 52V 20Ah
           Samsung 18650 3.7V 3500mAh Cells for 52V 28Ah/ 48V 31.5Ah
BMS:  20A for 36V battery, work for motor 36V 250W 350W 500W
           30A for 48V 52V battery, work for motor 48V 500W 750W 1000W
           if your motor is 48V 1200W 1500W 1800W 2000W, 
Charge Current: 
36V 20Ah with 3A charger
                            48V 20Ah/ 52V 20Ah with 2.5A Charger
                            52V 28Ah/ 48V 31.5Ah with 4A charger
Charge Cut-off Voltage: 58.8V/54.6V/42V
Discharge Cut-off Voltage: 39.2V/36.4V/28V
Battery Dimension:  364*232*64*343*80mm (as below picture)
Battery Net Weight: <6.8kg
1 x Lithium Battery Built-in cells and 30A BMS
with 25CM discharge naked cable, or soldered default discharge connector 
1 x 
42 3A/ 
58.8/54.6 
2.5A or 4A Charger With AC plug 
52V 28Ah/ 48V 31.5Ah with 4A fast charger
48V 20Ah/ 52V 20Ah with 2.5A Charger
Charger plugs and Discharge connectors optional:
1.Charger Plug: 
US EU UK AU
 plugs optional, will provide according to delivery country if without requested.
2. Discharge Connector: There are 8 kinds optional as below picture, will provide naked cable or soldered with default connector if without requested.
But If send from USA or Germany, the discharge cable is soldered with default connector already, can't be changed.
Ebike Battery Pictures:
About Shipping:
Battery is a special product, all batteries need several cycle test before delivery, so production and
test time need about 3-7 days after confirm order;
For EU Countries customer: (Tax free)
Air to Europe firstly, then dispatch by Europe UPS/DPD, tracking number can be trackable online after UPS/DPD transfered the parcel.
Shipping time is usually 7-12 working days( not including Sat Sun) after delivery.
For USA Customers: (Tax free)
Shipping by Fedex/UPS, Shipping time is usually 6-12 working days after delivery.
1)Shipping by Special Line to Australia, Malaysia, Thailand, Taiwan, Shpping time is usually 4-12 working days.
2)Shipping by Specail Line to Russia(Tax free), tracking online update after arriving Moscow. Shipping time is usually 18-28 working days.
Please note: battery can't be sent to any island address, if you're from a Island address, please check with us before order.
UnitPackPower also have warehouse and maintenance center at USA and Germany, if you want quicker shipping
We provide 1 year warranty for all electric bike batteries.
Any battery with quality problem in o
n
e month we can return the money after you provide the proof.
After one month we can send BMS or cells to you for repair,or you can send it back to repair as well.
All our electric bicycle batteries with high quality cells and BMS, and they will be 100% tested before shipping.
Top brand lithium battery manufacturer in China, rest assured to buy.
We don't supply warranty service for the following situation : 
The battery goes over water 
The battery is broken man-made
The cells are burnt out after using .
Return the battery without reason 
Open a case without contacting us
Our battery can fit all motor kit, but exclude these four : Bosch, SHIMANO, Yamaha, Panasonic .
Please contact us, If you can't conifrm your motor.
If you have any problems please feel free to contact us BEFORE you leave negative feedback or file a case.
Any problem is not a problem, as long as you contact us.
Your satisfaction and positive feedback is very important to us.
Please kindly leave positive feedback and 5 Stars for us if you are satisfied with our items and services.
Q: What type of this electric bike battery?
A: It is li ion battery,Chemical is Li(NiCoMn)O2.
Q: What is the difference between li ion battery,NI-MH battery and Lead acid battery?
A: E-bike Li-ion battery have longer cycle life,normal cycle life is 800-1000 times, and also with light weight,small size, No memory effect,Nontoxic, environmental friendly.
Q: What's temperature range of charge and discharge?
A: Charge Temperature: 0 to 45°C and Discharge Temperature: -20 to 65°C
Q: What kind of cells used on this electric bicycle battery?
A: Different capacity with different cells, we make the battery with original A grade Samsung,Panasonic,Sanyo,LG and high quality domestic cells,all can be customized as your requests.
Q: Do your e-bike battery come with charger?
A: All of our e-bike batteries come with charger.We have normal charger and fast charger.If you need fast charger please contact with us.
Q: Do your electric bike batteries come with BMS?
A: Yes, Our batteries all with SEIKO IC BMS, with stable performance.Which can protect the battery avoid short circuit,Overcharged,Over discharge and Over current.
Q: Can you provide OEM and ODM service?
A: Yes, We are a professional Electric Bike Battery manufacture with factory, which produce all kind of high quality E-bike lithium batteries as customers' requirements and designs, welcome to place OEM and ODM orders and visit our factory.
Longer battery life, the life expectancy is two times that of lead-acid batteries.
Rechargeable and no memory effect.
The weight is more lighter.
Smaller dimensions and can be customized.
Safer and more environmentally friendly, No heavy metals and hazardous substances.
BMS built-in IC chip will prevent battery pack over charge, over discharge, over-current,
over-heat, short circuit .
Do not immerse the battery in water or seawater, keep the battery stands by in a cool dry surrounding.
Does not use or leave the battery near a heat source as fire or heater.
Use the battery charger specifically for that purpose when recharging.
Do not reverse the position and negative terminals.
Do not connect the battery electrodes to an electrical outlet.
Do not discard the battery in fire or a heater.
Do not short-circuit the battery by directly connecting the positive and negative terminals with metal objects.
Do not transport or store the battery together with metal objects such as hairpins, necklaces, etc.
Do not strike, trample or throw the battery.
Do not directly solder the battery and pierce the battery with a nail or other sharp objects.
UnitPackPower batteries have insured to China Ping An Insurance, rest assured to buy. 
The UPP Triangle Battery 36V 48V 52V 20Ah 28Ah 31.5Ah Ebike Battery with Super Capacity Long Range Work for 500W 750W 1000W Motor is a sensational customer favorite, and we hope you like it just as much.

Inventory Last Updated: Oct 05, 2023