---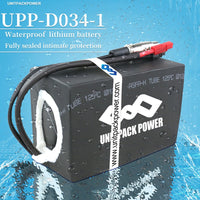 Sale
UPP Customized 36V20AH 48V15AH 48V20AH Escooter Battery Black PVC Lithium-ion Battery Pack for 1000W 750W 500W eBike Escooters
Brand Name: UNITPACKPOWER
Capacity: 10 - 20Ah
Voltage: 48V
Type: Lithium Battery
Nominial voltage: 36V 48V optional
Nominal capacity: 20AH for 36V, 15AH 20AH for 48V
Built-in cell: Brand 2500mAH 18650 cell
Battery BMS: 20A for 36V, 30A for 48V
Charge cut off power: 42V & 54.6V
Discharge cut off power: 28V & 36.4V
Warranty: 12 Months
Cycle life: Over 90% capacity after 800 times
Suitable escooter power: 1000W 750W 500W Escooter motor
Charge temperature: 0-40℃
Discharge temperature: -20-45℃
UPP Customized 36V20AH 48V15AH 48V20AH Escooter Battery Black PVC Lithium-ion Battery Pack for 1000W 750W 500W eBike Escooters
Make the battery works for you 
Kindly let us know what charge plug (UK, EU, AU, US optional) and discharge connector ( No. A~ J) you would like. Or you will get the default ones.
What you could get in your parcel 
Parameters you may be interested 
Parameter

48V20AH

36V20AH

48V15AH

Nominal voltage

48V

36V

48V

Nominal capacity

20AH

20AH

15AH

Built-in cell

Brand 2500Mah

Brand 2500mAH

Brand 2500mAH

Configuration

13S8P

10S8P

13S6P

Charge cut off voltage

54.6V

42V

54.6V

Discharge cut off voltage

36.4V

28V

36.4V

BMS

30A

20A

30A

Suitable motor power

0 to 1092W

0 to 560W

0 to 1092W

Charger

2A

2A

2A

Dimension

245*160*70 MM

190*160*70 MM

245*140*70 MM

Weight (Battery only, without charge and package)

5.2KG

4KG

3.9KG

Charge temperature

0-45℃

Discharge temperature

-20-65℃

Warranty

12 months

Cycle life

Over 80% capacity after 800 cycles
Why your battery unique 
Unit Pack Power can do more than you can ever image 
Needing warranties?
Batteries received within 30 days get free return and fully refund; 
Batteires recevied within 12 months get technical assistance as well as accessories for reparing.
Worring about shipping fee and tax?
For EU Countries customer: (Tax free)
Air to Europe firstly, then dispatch by Europe UPS/DPD, tracking number can be trackable online after UPS/DPD transferred the parcel.
Shipping time is usually 7-12 working days (not including Sat Sun) after delivery.
For USA Customers: (Tax free)
Shipping by FedEx/UPS, Shipping time is usually 6-12 working days after delivery.
Special Line:
1)Shipping by Special Line to Australia, Malaysia, Thailand, Taiwan, Shipping time is usually 4-12 working days.
2)Shipping by Special Line to Russia (Tax free), tracking online update after arriving Moscow. Shipping time is usually 18-28 working days.
Please note: battery can't be sent to any island address, if you're from an Island address, please check with us before order.
Batteries are good friends, take good care of them 
Do not immerse the battery in water or seawater, keep the battery stands by in a cool dry surrounding.
Does not use or leave the battery near a heat source as fire or heater.
Use the battery charger specifically for that purpose when recharging.
Do not reverse the position and negative terminals.
Do not connect the battery electrodes to an electrical outlet.
Do not discard the battery in fire or a heater.
Do not short-circuit the battery by directly connecting the positive and negative terminals with metal objects.
Do not transport or store the battery together with metal objects such as hairpins, necklaces, etc.
Do not strike, trample or throw the battery.
Do not directly solder the battery and pierce the battery with a nail or other sharp objects.
Unit Pack Power is listening to every single voice of you buyers. 
Sincerely we know it is you who plays a great role in every progress we made. So do not hesitate to inform us how we can improve, meanwhile, kindly leave your 5-star reviews if you feel good about our product, service, and store, your encouragement makes us from good to great. ;)
The UPP Customized 36V20AH 48V15AH 48V20AH Escooter Battery Black PVC Lithium-ion Battery Pack for 1000W 750W 500W eBike Escooters is the yin, to your yang. You've found what you're looking for.

Inventory Last Updated: Dec 04, 2023