---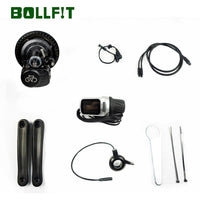 TSDZ-2 36V 48V 250W 350W 500W Torque Sensor Light XH-18 display Mid Drive Motor DIY Ebike Electric Bicycle Conversion Kit
Brand Name: BOLLFIT
Voltage: 36V
Design: Brushless
Wattage: 201 - 300w
Motor Type: Brushless Gear Hub Motor
Motor Type: TSDZ2 mid drive motor kit
Name: TSDZ2 Motor Engine Ebike Kit
Model: 36V/48V/250W/350W/500W/KIT-TSDZ2
Display: XH18
Chain Wheel: 42T
BB Size: 68-73mm
Packing Weight: 5.4KG
Application: Mountain Bike,City Bicycle,Snow Bike,Sand Bike
TSDZ-2 36V 48V 250W 350W 500W Torque Sensor Light XH-18 display Mid Drive Motor DIY Ebike Electric Bicycle Conversion Kit

HOW DO I KNOW IF THE MID DRIVE CONVERSION KITS WILL FIT MY BIKE?
 
The Mid Drive Kits are designed to fit bikes with a 68mm (2.68 in.) or 73mm (2.87 in.) wide bottom bracket shell and 35mm inside diameter.  This encompasses the vast majority of bikes excluding some newer high end bikes with an Integrated Bottom Bracket, and Fat tire Bikes with a 100mm wide bottom bracket shell.
This midmotor cannot be used on carbon fiber bicycle.If you cannot install the motor due to your own bicycle problem .We will refuse to provide the after sale service.I'm so sorry.Please make sure the details of your bike before you order it. 
​
Bollfit Service Advantages:
1.If you buy TSDZ2 mid-drive motor kit and follow our store. we'll send you a pair of connectors (PP30 , Bullet, XT60 )  as gift to you.Please leave a message to tell me which one do you need.
 
2.We also provide two 36V 250W labels as a gift for every customer who order this midmotor.
 
3.In the following countries, your tax will be paied by us if you buy DDP shipping service together with motor kit.

The United Kingdom Germany Belgium Luxembourg Netherlands Slovenia France Poland Austria Czech Republic Denmark Hungary Slovakia Lithuania Spain Sweden Latvia Italy Portugal Estonia Croatia Finland.
 

Package list
 1* TSDZ2 mid drive motor with torque sensor.

 1*Speed sensor with magnets

 1* thumb throttle

 1*E-bus cable set(can compatible till 28inch bike)

 1*42T chainwheel

 1*Lcd display: XH-18

 2* 36V250W labels
TSDZ-2 Tongsheng Mid-drive Motor Kit (VLCD6 Display)
Power:Voltage:36/48V Power: 250/350/500W
Power Assist Ratio :36%-300%
Speed:25KM/H-40KM/H(Speed limit is available)
Centification:CE/EN 14764/ROHS
Bracket bottom length:68/73mm (Standard:JIS)
Motor Operation Temperature:-20℃-45℃
Speed within 25-30km/h can help you ride further
Tongsheng Mid Drive Motor * 1 pcs
Speed Sensor + Magnet * 1 set
Chain Wheel: 52T 42T 34T (We can help you to change the chain wheel size) *1 pcs
1T2 cable
Front and Rear Light *1 (optinal)
Battery *1 (optional)
Gifts:Magic Scarf or Other Gift ,36V 250W label *2
Warranty :​motor and Battery are one year
Life is too short to live without the TSDZ-2 36V 48V 250W 350W 500W Torque Sensor Light XH-18 display Mid Drive Motor DIY Ebike Electric Bicycle Conversion Kit. Be happy. Be Content. Be Satisfied.

Inventory Last Updated: Sep 29, 2023