---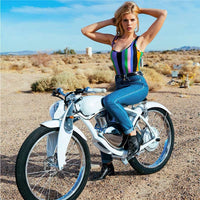 Sale
unro 2.0 E Bike Beach Cruiser Adult 48V Battery Retro Fat Tire Powerful Electric Scooters Adults Motorcycles Bicycle E-Bike
Voltage: 48V
Foldable: No
Wattage: 351 - 500w
Power Supply: Lithium Battery
Wheel Size: 26"
Max Speed: 30-50km/h
Motor: Brushless
Certification: ce
Frame Material: Aluminum Alloy
Range per Power: 31 - 60 km
Rated Passenger Capacity: One Seat
Style: Luxury Type
Model Number: Battery Electric Bike 48V
Wattage: 351 - 500w
Voltage: 48V
Power Supply: Lithium Battery
Wheel Size: 26 Inch*3.0
Motor: Brushless
Frame Material: Aluminum Alloy
Max Speed: 50KM/H
Range per Power: 31 - 60 km
Place of Origin: Jiangsu, China
Item: Battery Electric Bike
Product: Retro Electric Bike Fat T
Battery: 48V 11.6Ah Lithium
N.W./G.W.: 55kg / 90kg
Style: Retro Electric Bike
Motor Power: 400W
Max Braking distance: 1m (20km/h)
Max Load: 100KG
Munro 2.0 E Bike Beach Cruiser Adult 48V Battery Retro Fat Tire Powerful Electric Scooters Adults Motorcycles Bicycle E-Bike
E Bike Beach Cruiser, Adult 48V Battery Retro Fat Tire Electric Bike, Fashion Electrico E-Bike
Secutronic - Electric Bicycle Manufacturer -
Brief Introduction
What Is It?
The Retro Electric Bike is an electric moped with a design that evokes classic motorcycles like Burt Munro's Indian.
When it comes to functionality, this bike is hard to classify. Despite its styling, it is not a motorcycle. Despite the "electric bicycle" moniker, it is not something you can use exactly like an e-bike. There are no pedals, so you won't be getting the exercise you would with some other e-bike options. However, at 35kg (77 pounds), many people would not want to. In place of pedals, theElectric Bikefeatures motorcycle-style pegs for resting your feet while you ride. The result is a product that has far more in common with traditional small motorbikes than with its electric-bike brethren.
TheElectric Bikeis propelled with a Bosch electric motor in the real wheel and powered by replaceable battery packs that fit behind panels around the motor. A pair of caliper brakes on each wheel provide safe and fast stopping. Shock absorbers in the front and back promise a smooth ride without the spine-beating jostling you may have experienced on older gas-powered mopeds.
How Fast Does It Go?
The Electric Bike won't be setting any speed records. At a top speed of 28 mph, it's better suited to casual trips into town than mad dashes across the Bonneville Salt Flats. That doesn't stop it from being a stylish, innovative and practical option. The speed is closer to conventional mopeds than to other electric bikes, making it practical for errands, deliveries and local trips.
What's the Range?
As with any bike that clocks in at nearly 100 pounds, you'll want to know how far you can go before you're the one powering it. The manufacturer says that the bike can be powered by either one or two battery packs. With a single battery pack, rides will be able to travel 30 miles without a charge; the second battery pack doubles the range to 60 miles.
Where Can I Ride It?
Registration, licensing and insurance requirements on these sorts of electric bikes that blur the line between bicycle and motor vehicle are still nebulous. You'll have to study local laws on your area to see what's allowed, what's required, what's forbidden and what has yet to be addressed.
What Else Is Cool?
TheElectric Bike's sleek ovoid battery packs come equipped with a USB socket that allows you to charge up your devices on the go. The paint job is covered in a UV-protectant clear coat to ensure that it keeps its good looks even after years in the sun.
Applications
| | |
| --- | --- |
| Product Name | E Bike Beach Cruiser, Adult 48V Battery Retro Fat Tire Electric Bike, Fashion Electrico E-Bike |
| Item | Battery Electric Bike |
| Product | Retro Electric Bike Fat Tire |
| Battery | 48V 11.6Ah Lithium |
| N.W./G.W. | 55kg / 90kg |
| Style | Retro Electric Bike |
| Motor Power | 400W |
| Max Braking distance | 1m (20km/h) |
| Max Load | 100KG |
| Delivery time | 2-3 days |
| Max steering angle | 30 degree |
| Manufacturer | Secutronic Technology - A professional manufacturer of advanced personal vehicles and solutions that increase your productivity and reduce costs. Secutronic is committed to improving customer satisfaction through advanced technology and a commitment to innovation, quality, value and design. With its state-of-the-art digital technology, a strong R&D department and a well-trained production team help produce the most advanced products. |
| Advantage | ISO9001 quality management system certification and ISO14001 environmental management system certification, Superior Quality with Competitive price; In time delivery |
Battery Electric Bike
Battery Electric Bike 48V
Retro Electric Bike Fat Tire
The Munro 2.0 E Bike Beach Cruiser Adult 48V Battery Retro Fat Tire Powerful Electric Scooters Adults Motorcycles Bicycle E-Bike was built with people like you in mind. Something to keep you happy Every Single Day.

Inventory Last Updated: Sep 22, 2023