---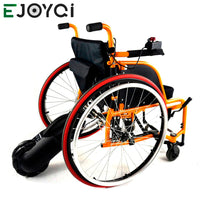 Sale
EJOYQ 24V250W Electric Wheelchair Tractor Wheelchair Handbike Electric Wheelchair Conversion Kits with Battery 8 Inch Wheel
Brand Name: EJOYQI
Voltage: 24V
Design: Brushless
Wattage: 201 - 300w
Motor Type: Other
Motor: 8 inch BLDC gear motor
Material: aluminum alloy
Voltage: 24V
Power: 250W
Operating current: 3A
Speed: 2.5-7km/h
Maximum carrying capacity: 100kg
Range: 30 km
Adapter battery: 24V 6.6AH
Waterproffing grade: IP54
EJOYQ 24V250W Electric Wheelchair Tractor Wheelchair Handbike Electric Wheelchair Conversion Kits with Battery 8 Inch Wheel

New 24V 250W Electric Wheelchair Tractor Wheelchair Handbike DIY Electric Wheelchair Conversion Kits with Battery Electric tractor for wheelchair
Motor:8 inch BLDC gear motor
Material:aluminum alloy
Voltage:24V
Power:250W
Operating current:<3A
Speed:2.5-7km/h (You can choose whatever you want.)
Maximum carrying capacity:100kg
Range:30 km
Adapter battery:24V 6.6AH (36V 6.6AH  available MOQ  10 SETS)
Gross weight:about 6kg 
Whole package:about 11kg
Waterproffing grade:IP54
 Upgrade Version New Function
1,Multitronic button,You can choose the speed what you want (2.5km/h ——7km/h).
 
2,Emergency brake button available.
 
3,Climbing angles = 8° .
 
4,Power button now ahead that near the hand.
 
5,Easy to install..No addtional tools are requirement.
 
6,When the wheelchair backward sliding, the controller will automatically lock the motor, the faster backward sliding speed, the greater lock force for motor, to prevent the wheelchair backward sliding.
 
7. It can be fit on essentially any make and type of wheelchair, including folding, tilt-in space, one-arm drive and standing.

 

Installation Manual

Step 1, Please make sure that your wheelchair have vertical supports on either side.Just prepare gloves .No additional tools are required.Install the holder.
Attention : Please face the wide side to yourself.

Step 2, Install another black holder.Please make sure it is installed in the middle.And it is fixed.

Step 3,Install the tractor(Wheelchair Motor).

Step 4,Install the control button on the side of right hand or left hand.Both is OK.All  depend on yourself.The straps are elastic and fit on any size armrest.Easy to install. 
 

Step 5,Tidy up the messy wires .Finish.There is a very important caveat before using  it.
Attention

You must make sure that the speed adjustment button is at the  smallest level before you turn on the power.Because the when you  press the emergency stop button. It will stop immediately .But it will  go as the same speed (the speed that you use emergency stop  button) when you turn on the power again.It doesn't automatically  go back to the starting speed.You need to adjust by yourself.
The EJOYQ 24V250W Electric Wheelchair Tractor Wheelchair Handbike Electric Wheelchair Conversion Kits with Battery 8 Inch Wheel was built with people like you in mind. Something to keep you happy Every Single Day.

Inventory Last Updated: Oct 02, 2023