---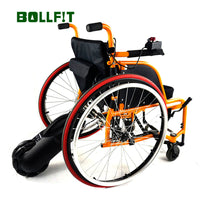 Sale
Bollfit Electric 24V 250W 8 Inch Wheelchair Motor Tractor Assistant Assit Wheel Motor for Physibal Disability Engine Kit
Brand Name: BOLLFIT
Voltage: 24V
Design: Brushless
Wattage: 201 - 300w
Motor Type: Brushless Gear Hub Motor
Bollfit Electric 24V 250W 8 Inch Wheelchair Motor Tractor Assistant Assit Wheel Motor for Physibal Disability Engine Kit
TYPE / 8inch Brushless DC Gear Hub Motor 8''C
MOTOR VOLTAGE /  24V
POWER  /  250W
BATTERY TYPE  /  Lithium
BATTERY CAPACITY  /  6.6AH
CONTROLLER RATED VOLTAGE / 24V
MOTOR OPERATING CURRENT / <3A
CHARGER INPUT VOLTAGE / AC110V-220V
CHARGER OUTPUT CURRENT / DC2±0.2A
OPERATING TEMPERATURE / -20℃--+60℃
MOTOR SPEED /  Min about 2.5km+-1km/h , Max 8km+-1km/h 
UNDER VOLTAGE / 21±0.5V
WEIGHT / About 7 kg
NEW FUNCTION 
1,Multitronic button,You can choose the speed what you want (2.5km/h ——7km/h)
2,Emergency brake button available.
4,Power button now ahead that near the hand
5,Easy to install..No addtional tools are requirement.                          
6,When the wheelchair backward sliding, the controller will automatically lock the motor, the faster backward sliding speed, the greater lock force for motor, to prevent the wheelchair backward sliding.
7. It can be fit on essentially any make and type of wheelchair, including folding, tilt-in space, one-arm drive and standing.
​Please send me your email after you ordered.
The Dimension of Motor
The Bollfit Electric 24V 250W 8 Inch Wheelchair Motor Tractor Assistant Assit Wheel Motor for Physibal Disability Engine Kit is a sensational customer favorite, and we hope you like it just as much.

Inventory Last Updated: Oct 03, 2023