---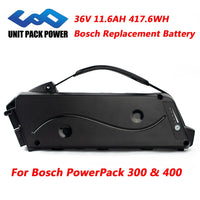 Sale
36vBosch PowerPack 300 400 Active Replacement Battery Electric Bike 36V 11.6AH 417.6WH Samsung 18650 Lithium eBike Batteries
Brand Name: UNITPACKPOWER
Capacity: 10 - 20Ah
Voltage: 36v
Type: Lithium Battery
Nominal Capacity: 11.6AH
Rate: 417.6WH
Cell: Samsung INR18650 2900mAH
Weight: 2.462KG
Dimension: 295.72*107.9*86.40 mm
Charge Cut off Voltage: 42V
Configuration: 10S4P
Storage Temperature: -20-40 ℃
Charge Temperature: 0-45 ℃
Discharge Temperature: -20-60 ℃
Cycle Life: 500 Times
Model Number: BOS-E36A
36vBosch PowerPack 300 400 Active Replacement Battery Electric Bike 36V 11.6AH 417.6WH Samsung 18650 Lithium eBike Batteries
Kindly Notice that this battery is without charger, please use your default Bosch charger.
BATTERY APPLICATOIN
Competible with Bosch 36V PowerPack 300/400.

Brands that use Bosch driving system, Bergamont, Cannondale, Centurion, Conway, Corratec, Cube, Diamant, Felt, Focus, Ghost, Giant, Haibike, Kalkhoff, Kettler, KTM, Kreidler, Merida, Raleigh, Rotwild, Scott, Trel, Victoria, Univega, VSF etc.
Technical Parameters
Model number, BOS-E36A

Voltage, 36V

Rate, 417.6WH

Capacity, 11.6AH

Cell, Samsung INR18650 2900mAH

Weight, 2.462KG

Dimension, 295.72*107.9*86.40 mm

Configuration, 10S4P

Charge Voltage Limit, 42V

Continuous discharge current, 8A

Max discharge current, 16A

Storage temperature, -20~40 ℃ 

Charge Temperature, 0~45 ℃

Discharge Temperature, -20~60 ℃

Cycle Life, 500 time
 PCB Safety Function
PCB Safety Function
Cell balancing,

Over-current protection,

Over-discharge protection,

Over-charge protection,

Temperature protection,

Secondary protection
​
Details Pictures
Packing List
1* replacement battery
Shipping policy
For EU Countries customer: (Tax free)
Air to Europe firstly, then dispatch by Europe UPS/DPD, tracking number can be trackable online after UPS/DPD transferred the parcel.
Shipping time is usually 7-12 working days (not including Sat Sun) after delivery.
For USA Customers: (Tax free)
Shipping by FedEx/UPS, Shipping time is usually 6-12 working days after delivery.
Special Line:
1)Shipping by Special Line to Australia, Malaysia, Thailand, Taiwan, Shipping time is usually 4-12 working days.
2)Shipping by Special Line to Russia (Tax free), tracking online update after arriving Moscow. Shipping time is usually 18-28 working days.
Please note: battery can't be sent to any island address, if you're from an Island address, please check with us before order.
Warranty
We offer 1-year warranty.
Products delivered within 30 days can be returned or replaced freely if there's any quality issue.
For products delivered beyond 30 days, we can send BMS to repair if needed.
But not including following situations,
 The battery goes over water;

 The battery is broken man-made;

 The cells are burnt out after using.

 Return the battery without reason

 Open a case without contacting us
​
Feedback
UPP is listening to every voice of buyers, leave us 5-star reviews if you're satisfied with our products, services as well as store. Also, do not hesitate to let us know if there're still things we can improve, your comments play really important roles in every progress we made these years.
Most asked questions
Q: what type is the e-bike battery?
A: It's Lithium-ion battery, Chemical is Li(NiCoMn)O2, and which is the most popular and optimal type of battery for an e-bike today. A lithium battery has the best combination of total weight and capacity. The specific capacity of lithium-ion batteries is the highest of all existing types and this is their main advantage. Lithium-ion batteries do not have the 'memory' effect.
Q: How can I avoid destroying the battery?
A: First, pay attention to the battery's on/off system. Famous manufacturers use the 'sleep mode' in their batteries. You activate the battery mainly by pressing a button or turning on the e-bike on the control display. Once you turn off the e-bike, the battery will 'sleep' on its own after a few hours - so the power from the BMS system will turn off also. If you are riding on, you need to press the button again to activate the battery.
Q: How do I store the battery in winter?
A: Storing the battery during the winter is very easy. Basically, it is enough to charge the battery 50% and store it in a cool place. It is better to store the battery outside the e-bike to prevent unwanted activation.
Q: The batteries heat up during charging, is something wrong?
A: No, that's okay, all types of batteries heat up during charging. So do the chargers.
Q: What is the 'memory effect'?
A: The memory effect happens when a battery is recharged before being completely discharged. The battery 'remembers' the last remaining capacity before the next charge. Therefore, when you charge the batteries before they are fully discharged, the battery usage time will decrease. The batteries used by most of our products (Li-Ion, Li-Pol) have no or a very slight memory effect.
Q: What does self-discharge mean?
A: If the battery is not used after it has been fully charged, it will gradually lose energy. The self-discharge value for Li-ion and Li-Po batteries is very low and fluctuates by a maximum of about 5% per month at room temperature. It is useful to check the battery once a month, and if its capacity has fallen below 50%, charge it to about 70%. The suggestion that deep discharge prolongs battery life is total nonsense!
On the fence about this 36vBosch PowerPack 300 400 Active Replacement Battery Electric Bike 36V 11.6AH 417.6WH Samsung 18650 Lithium eBike Batteries? Don't be. Let our satisfaction guarantee address your concerns.

Inventory Last Updated: Oct 03, 2023