---
Bicycle — Children Bicycle
Posted by Tom Lee on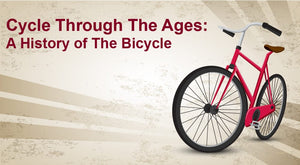 The bicycle: a staple of modern transportation and leisure. It's hard to believe that there was actually a time where these contraptions didn't exist.
Every vehicle has its own beginnings, and that is no different for the bicycle. The bicycle has gone through a lot from the early 19th century until now to become what it is today. It has an intriguing history that is most certainly worth sharing.
---
Posted by Tom Lee on
Nothing compares to the simple pleasure of a bike ride.  It is a well-known fact that bicycles are much more than mere playthings. They are a tool to learn concepts of inertia, coordination, and balance while enjoying activities like pedalling, braking, and steering. Probably one of our fondest memories as children is zooming through streets on our trusted bicycle. As parents and grandparents, we hope to pass down these experiences through generations by gifting our little ones their first bike. However, given the different options and wide variety in the market, it can be tough to know which bicycle is indeed...